At Blacklash, we are committed to producing quality Cavalier King Charles Spaniels. We regularly compete with our dogs in Conformation Shows both in Tasmania and the mainland states of Australia. Our dogs are consistently successful at both Allbreeds and Specialty levels.
We follow international best practice health protocols and our breeding dogs are screened and cleared for hereditary heart and eye diseases. These clearances include current certificates from Veterinary Cardiologists, Veterinary Opthamologists and genetic testing by DNA for Episodic Falling (EF), Curly Coat/Dry Eye (CC/DE).
As well as ensuring physical health, we also breed, raise, train and socialise our puppies so that they are happy and behaviourally healthy.
We are proud to be on the world-wide register of Puppy Culture breeders, a first not just in Tasmania, but a first for Cavaliers in Australia. This programme is an early puppyhood development and socialisation programme, with an emphasis on self-directed learning and enrichment. We are very proud ambassadors of Puppy Culture and were pleased to be accepted into its partnership programme in 2017.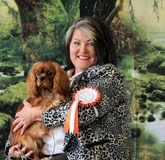 Tasmanian Puppy of the Year Contestant 2017, Carmen (Blacklash Scandal In Blue) at 9 months.