These are the upcoming health clinic dates for specialist visits in Tasmania.

HEART TESTING
Dr Geoff Nicolson is a board certified Specialist Veterinary Cardiologist from Veterinary Cardiac Services Australia. He travels from Queensland every couple of months to conduct heart clinics for breeders and dog owners in Tasmania.
MAY 2021
Date to be advised. To go on the waiting list for future visits or to make a booking, contact: North Hobart Veterinary Hospital 223 Elizabeth Street, North Hobart TAS 7000 (03) 6234 7044.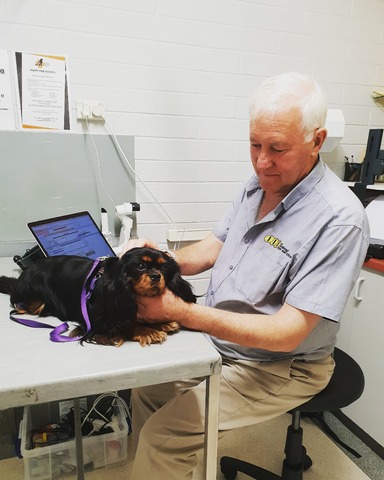 EYE TESTING
Specialist Veterinary Opthamologist Dr Andrew Turner from All Animal Eye Services in Victoria, visits Tasmania every month, alternating between Launceston and Hobart. All appointments are taken directly by his clinic on (03) 9808 2822.
| DATE | CLINIC | ADDRESS |
| --- | --- | --- |
| Tues 23rd - Thurs 25th March 2021 | North Hobart Veterinary Hospital | 223 Elizabeth Street, North Hobart TAS 7000 |
| Tues 9th - Thurs 11th March 2021 | Animal Medical Centre | Charles Street, Launceston TAS 7250 |
| Tues 27th - Thurs 29th April 2021 | Animal Medical Centre | Charles Street, Launceston TAS 7250 |
| Tues 4th - Thurs 6th May 2021 | North Hobart Veterinary Hospital | 223 Elizabeth Street, North Hobart TAS 7000 |